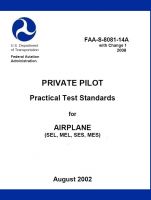 Private Pilot Practical Test Standards for Airplane; Single and Multi Engine, Sea and Land...
by
jon strickler
List Price: $2.49

*

Rating: Not Rated
Length: Novella
Words: 20,100
Ebooks on flying or about flying for Aviation Fans
The Private Pilot—Airplane Practical Test Standards book has been published by the Federal Aviation Administration (FAA) to establish the standards for private pilot certification practical tests for the airplane category, single-engine land and sea; and multiengine land and seaclasses. FAA inspectors and designated pilot examiners conduct practical tests in compliance with these standards.


(*List price is from the distributor. Sale price may vary on third parties).